We are open on holidays and after hours at no additional charges.
Wayne Dalton Garage Door Repairs and Torque Master Springs
Garage Door Springs for Wayne Dalton Garage System and Wayne Dalton Torque Master Torsion Springs Replacement
What is the difference between Wayne Dalton Garage Door Torque Master Torsion Spring and Regular standard Garage Springs?
Comparable to
Standard Torsion Springs
, the Wayne Dalton Torque Master springs are completely different and only one of its kind. They are could not be matched to any standard garage door torsion system and won't operate with most of the garage doors and garage door systems. Torque Master springs and Winding Unit normally will be found on the right hand side of the garage door.
The difference in Wayne Dalton's Garage System is huge: garage door tracks are smaller than any other standard garage systems. Torque Master springs are smaller along with smaller drums. The only Similarity with any garage springs is that there is not one size spring that is standard or matches to all types of the garage door systems. Usually when they are broken, Torque Master springs replacement require several steps. We must determine what kind of springs your system needs .911 garage door repair team collects some information such as: weight and height of the door, measurements ,wire size ,length, door model, serial number(similar to car Vin Number), door width and much more. Even all that is still not enough. Our highly qualified repair team needs to determine if your TorqueMaster springs system is standard or this is TorqueMaster Plus springs system, which is dramatically different from older Wayne Dalton TorqueMaster system that were made in the early 90s.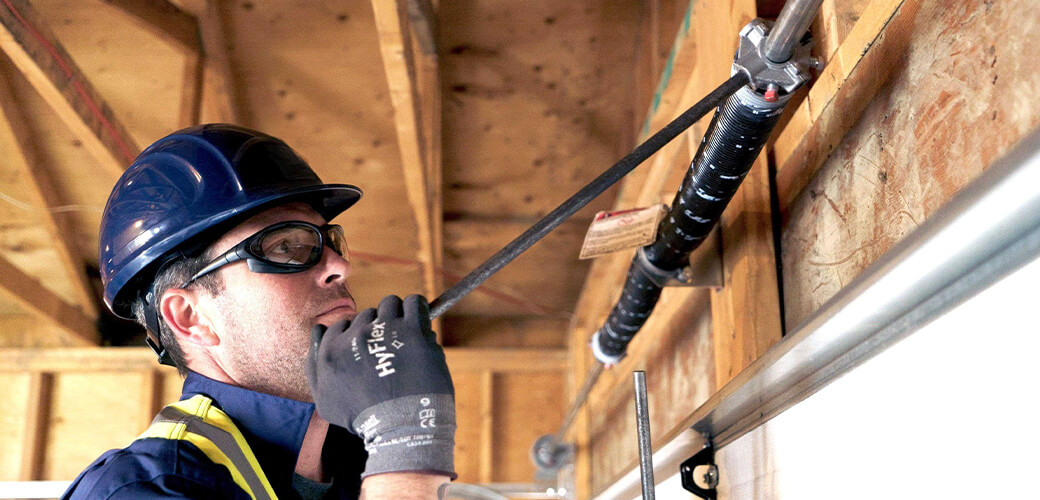 Wayne Dalton TorqueMaster springs Replacement and Repair Recommendation
Another similarity with Wayne Dalton TorqueMaster springs(in case your garage door system has 2 torsion springs) is that once one of the torsion springs are broken, then we strongly recommend to replace both, because the one that is still working is already running low cycles and will snap very soon also because of higher tension from a brand new spring.

Prompt & Professional Service
We offer swift and expert solutions for all door issues, ensuring a timely response and skilled technicians efficiently addressing your needs.

24-Hour, 7 Days A Week Availability
We guarantee immediate assistance for garage door emergencies and scheduling flexibility for routine maintenance or repairs.
911 garage door repair pros are specialized in Wayne Dalton Torquemaster and Wayne Dalton Torquemaster Plus Garage Systems and provide all types of the repairs along with Wayne Dalton parts replacement such as: Wayne Dalton Stud Bolts, Garage Door Bearings, Bearing Plates, Spring Anchor Brackets, Garage Door Seals, Garage Door Seal Retainers, Flap Top Seal ,Winding bracket, Hinges for Wayne Dalton brand, Counter Gear, Torsion Spring Cones, Drive gear, Garage Door Bottom Fixtures, Cables Drum, Cable Assemblies, Winding Cone, Flag Brackets and Support Brackets. In case if your Wayne Dalton garage system is an older model, we can easily assist you with converting it to a Wayne Dalton Torquemaster Plus Garage System(sometimes called as Torquemaster 2 system),which operates much smoother and more efficiently.
Garage Repair Services We Provide :
Your Trusted Garage Door Repair Experts: Customized Solutions for Installation, Replacement, and Repair Services – Your One-Stop Shop Solution.
Brands we Specialized and Work with
Here are a few brands we trust for installation and repair needs.
What Do Our Customers Say?
Learn about our work and make a difference in our work
Mike has been great to work with! When a spring broke - he got out there immediately and sent pictures and communicated everything he did. He went above and beyond. Keep his number on speed dial!
Chelsea O.
Michael has serviced my garage door in Dallas twice and I definitely give him the highest rating possible for his quality of work, transparency, and timeliness.
Garth F.
Michael showed very quickly and identified the issue immediately. It was a simple fix and he even didn't charge me for the trip.So the door is fixed and he have me lot of advice on how to prevent it going forward.Highly recommend the company
Devesh S.
Fastest response when needing a quote for a broken garage spring. Came out next day and fixed like clockwork. Would recommend for trophy club, Southlake area.
Tro J.
We are the garage door experts you can trust for all your problems.