We are open on holidays and after hours at no additional charges.
Broken Garage Door Springs Replacement
Repairing or Replacing the Torsion springs can be a very dangerous procedure and must be performed correctly in order to ensure the proper garage door system function. In many cases, 911 Garage Door Repair Pros hear the same questions from our customers: How come the spring on my Garage door got Broken? Or, we had just recently replaced the Broken Spring not long ago!…and the answer is : If the broken spring that was replaced wasn't installed properly, wrong size of the torsion spring, or if you haven't maintained your entire garage door system for a while, this is what usually happens. 911 Garage Door Repair Experts always recommend to
maintain and Tune-Up
your garage door system at least once a year. That will make your springs last longer, Save you a lot of money on unnecessary repairs, and prevent from any garage door malfunctions. Normally, on average the Garage door springs' lifetime is anywhere from 10-15 years, and our garage door company provides
garage door repairs
and spring replacements with factory warranty. We also provide our Best Warranty on this type of project-labor warranty. Unfortunately nowadays when customers use Different unprofessional companies they can easily end up paying twice for the same service. The First time when another company comes to install a wrong size spring or even installs USED springs that are cheaper. It will break in just a few short months from the day of the service. The Second time is When the customer will call a garage door Professional-Expert with years of Experience in the garage door repair industry, like ourselves. 911 Garage Door Repair Pros will ensure each one of our dear customers, that we use ONLY Brand New Torsion Springs and Extension Springs along with other garage door parts, and each component we install, repair, or replace comes with years of backed up warranty.
How garage door springs work? or What are the symptoms of a broken spring?
The garage door motor-opener lights up and makes noises, but the door doesn't open? Looked up above the garage door and came across a spring that was snapped in half? Garage Springs are the second most Important part of the whole garage door system, after the garage door opener-motor. Torsion springs are responsible for the balanced and smooth garage door traveling-opening. The average number that each garage door opens and close is 1400 to 1500 times a year. Torsion springs are ranked for at least 15,000 cycles a year. In order for us to find out what type of torsion springs your garage door requires, we need to determine, measure, and collect some very important information such as: garage door weight, length, diameter and width of the spring also size and the type of spring ends. It's Important to Remember that there is not just one size spring and there are No standard sizes for all the doors. Each door and every garage door system are different and use different Torsion, Extension or
TorqueMaster Torsion Springs
. If you use specifically the
Wayne Dalton
garage door system, we highly suggest that you Do NOT replace or install just any random spring on your garage door! It will lead to the entire door going Off Track,
Broken Cables
,
Damaged Rollers
and in some circumstances might cause serious damage to the
Garage Opener-Motor
. Call 911 Garage Door Repair Pros
214-306-6684
or
817-506-7311
for FREE consultation or service.

Prompt & Professional Service
We offer swift and expert solutions for all door issues, ensuring a timely response and skilled technicians efficiently addressing your needs.

24-Hour, 7 Days A Week Availability
We guarantee immediate assistance for garage door emergencies and scheduling flexibility for routine maintenance or repairs.
What is the difference between two designs: Sectional Garage Door Extension Springs and One Piece Garage Door Extension Springs.
Garage Door Torsion springs are typically mounted to the bracket above the middle of the garage door. Garage Systems that have two springs are much safer, in case if one spring breaks then the other one will keep the door from falling and prevent injuries or other damages in your house or garage. For Garage doors that have one spring on each side of your door, and just one spring snapped in half, 911 Garage Door Repair Pros Recommend to replace both springs because: 1- the unbroken spring is already old, used, and weak ,2-the new spring will be lifting the door and using much more tension that can cause the door to open unevenly which will lead to another garage door system predicament.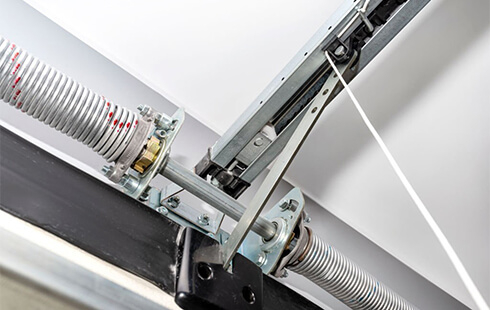 As part of any repair service for garage door or garage door springs, 911 Garage Door repair pros are always inspecting ,adjusting, and realigning the entire system for the Best performances. Contact us today
214-306-6684
or
817-506-7311
and we will be happy to assist you with any garage door issue.
Garage Repair Services We Provide :
Your Trusted Garage Door Repair Experts: Customized Solutions for Installation, Replacement, and Repair Services – Your One-Stop Shop Solution.
Brands we Specialized and Work with
Here are a few brands we trust for installation and repair needs.
What Do Our Customers Say?
Learn about our work and make a difference in our work
Mike has been great to work with! When a spring broke - he got out there immediately and sent pictures and communicated everything he did. He went above and beyond. Keep his number on speed dial!
Chelsea O.
Michael has serviced my garage door in Dallas twice and I definitely give him the highest rating possible for his quality of work, transparency, and timeliness.
Garth F.
Michael showed very quickly and identified the issue immediately. It was a simple fix and he even didn't charge me for the trip.So the door is fixed and he have me lot of advice on how to prevent it going forward.Highly recommend the company
Devesh S.
Fastest response when needing a quote for a broken garage spring. Came out next day and fixed like clockwork. Would recommend for trophy club, Southlake area.
Tro J.
We are the garage door experts you can trust for all your problems.